Colocation In Northern Virginia
The Vienna, VA location is a Tier-3 datacenter. Certifications include SSAE-16 compliant, PCI-DSS certified For more details or a quote, Contact Us
Vienna, VA Datacenter - Main Features
Facilities

DC Battery Room
N+N UPS for whole building
N+N HVAC
3 separate chillers
VESDA - Very early smoke detection
Dry pipe fire suppression system
24x7 manned
24x7 security presence
Diesel generator w/ fuel onsite
Dedicated substation 4.5 MVA
100% Uptime SLA
SSAE-16 Certification
ISO 27001/2005 IS Certified
ISO 9001/2008 ISMS Certified
NHS N3 Certified
Hydrogen Detection

Security

Multilayered approach
Motion detection
CCTV
Biometrics
Highly secure access procedures
Escort required at all times -
Racks always locked
Rogue AP scan monthly

Connectivity

Provider Room - multiple carriers
Peered with multiple Tier-1 providers
BGP routing
10/100/1000+ Mbps available
Redundant Switch Fabric
Other facilities available: Reston, VA  |  Baltimore, MD  |  Norfolk, VA | Virginia Beach, VA
NORTHERN VIRGINIA COLOCATION FACILITIES

Our Northern Colocation Facilities offer quality colocation services, managed services and dedicated servers. Your servers will get superb connectivity to anywhere in the US and most of the world through via multi-homed BGP bandwidth using leading internet service providers. We offer service plans that range from rack space for a single 1U server to multiple full racks with bandwidth ranging from 1Mbps to multiple Gig-E.
With our unique relationship we have with multiple vendors and providers we able to offer state of the art technology, redundancy and reliability.
The Vienna, VA colocation facility operates 24/7/365 with NOC monitoring. Power backup is provided through large UPS room and diesel generator. There is also a DC power room for customers using DC-powered equipment. The facility has multiple layers of security including biometrics, locking cabinets, 24x7 guard post, early warning VESDA fire detection system, both smoke and high temperature detectors, and a dry pipe, pre-action double interlock fire suppression system. Environmental controls monitor power, HVAC, security and fire, leak and hydrogen detection. The facility is designed to serve the growing demand for colocation and managed hosting for years to come. 

Northern Virginia Colocation Facilities are secure with Digital Surveillance Cameras, Biometric palm scanners at all facility entrances, card access control at all interior and exterior doors. There is 24/7/365 access as well as 24/7/365 monitoring plus Individually Locked Cabinets. DC power is available with Generator Backup.
BANDWIDTH AND IP ADDRESSES
At the Northern Virginia Colocation Facility we can provide any quantity of blended bandwidth (including Level3/Global Crossing and others).
IP addresses are available in increments of 1 or more, depending on your requirements. A questionnaire may be required for larger IP blocks so that we can meet ARIN requirements. 
Vienna Facility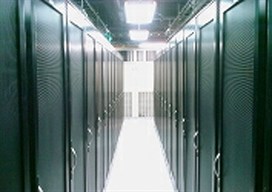 Diesel generator backup, UPS battery room, DC power room
VESDA dry-pipe fire suppression, hydrogen detection
24x7 manned guard post, biometrics, CCTV
24x7 monitoring and access
SSAE-16 certified, stringent security and operational processes