eCommerce
A great way to increase revenues and grow your business is to sell products and services online. But first, you need a reliable partner with the expertise to make sure your online venture is done right - and provide continued support along the way. We have over 8 years of experience building eCommerce solutions for businesses of all sizes. We are also an authorized EarlyImpact ProductCart reseller and integrator. You can't go wrong by choosing us - we have what it takes to make your eCommerce projects a reality.
Online Demo: ProductCart with Build-to-Order module

ECOMMERCE SOLUTIONS FOR BOTH SMALL AND LARGE BUSINESSES
Turnkey Shopping Cart solutions can get your business up and running on the Internet quickly. Optionally, further customizations can be applied without interrupting your business flow. Our reseller relationship with EarlyImpact allows us to provide a robust and reliable turnkey solution to our customers, while providing great support and access to Solutrix's solid programming, consulting and application hosting expertise.

If you are a large business looking for a custom-built online storefront, you have come to the right place. We have the expertise to build a storefront that will drive revenues and ensure repeat customers with an intelligent design and positive shopping experience.

TRULY CUSTOMIZED
Using ASP.NET, Microsoft SQL Server and other Microsoft technologies, we tailor your online storefront from the ground up according to your specifications. Our team will take the time to consult with the you and lay a solid framework before beginning the actual development process - so you get a truly custom solution that drives revenue and helps you accomplish your business objectives.

INDUSTRIAL GRADE HOSTING INFRASTRUCTURE
You can count on our industrial grade infrastructure to keep your store available at all times. When selling products and services online that are on the rise in popularity, it is important to partner with an application hosting facility that has sufficient network capacity and understands how to support high traffic storefronts. Because of our expertise and partnership with Cox Communications, you can rest assured that we can provide the uptime and network performance you demand. Our servers and infrastructure are managed 24/7 by competent and Microsoft-certified staff who take business seriously - both yours and ours!
There are no one-size-fits-all hosting packages available at Solutrix. We believe hosting only works when it fits the customer, and their budget. Even though we can host your storefront on a shared server to minimize costs, it can be quickly moved to a dedicated server (or a load balanced web farm) at any time should the need arise. We believe in tailored, flexible hosting that promotes business agility and success. For more information about our web hosting offerings, click here.
INCREASE REVENUE - ANY BUSINESS CAN GO ONLINE!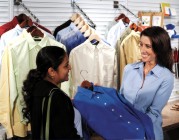 Services
Responsive support and overall reliability are key.

Solutions
Custom built for each unique customer, and supported 24x7x365 by our experts.

Case Studies
Examples of solutions we successfully delivered to customers.