Colocation In Norfolk, Virginia
The Norfolk, VA location is well situated in Hampton Roads and a short drive from the Norfolk International Airport.
For more details or a quote Contact Us
Facilities

APC UPS Available
Industrial HVAC
VESDA - Very early smoke detection
FM-200 Fire Suppression
Multiple diesel generators w/ fuel tanks onsite
Monitored 24x7

Connectivity

Cox FiberNet
10/100/1000+ Mbps available

 

Security

Multilayered approach
CCTV
Biometrics
Highly secure access procedures
Escort required at all times
Perimeter fence with barbed wire
Electric gate and gate code
Hardened windowless conrete structure around datacenter floor
Robust defense against hurricanes and storms
NORFOLK COLOCATION FACILITIES
Our Norfolk Colocation Facility offers quality colocation services, managed services and dedicated servers. We can deploy your servers and network gear same-day or within 24-48 hours for larger projects. Your servers will get superb connectivity to anywhere in the US and the world. We offer plans that range from rack space for a single 1U server to multiple full racks with bandwidth ranging from 1Mbps to multiple Gig-E.

With our unique relationship we have with multiple vendors and providers we able to offer state of the art technology, redundancy and reliability, The Norfolk Colocation Facility operates 24/7/365 with NOC monitoring and 24/7 knowledgeable staff, multiple layers of physical security, and a fire detection and FM-200 fire suppression system. The Norfolk Colocation facility also has environmental controls and monitoring of power and HVAC. The Norfolk Colocation Facility is designed to serve the growing demand for colocation, and managed hosting for years to come. 

The Norfolk Colocation Facility is secured with CCTV, perimeter fence, concertina wire and card scanners at all facility entrances. There is 24/7/365 access as well as 24/7/365 monitoring plus Individually Locked Cabinets. There are multiple large diesel generators and diesel fuel tanks at the facility for backup power.
BANDWIDTH AND IP ADDRESSES
At the Norfolk Colocation Facility we can provide any quantity of bandwidth through our partnership with Cox Communications. Smaller amounts of shared bandwidth are available immediately, while larger dedicated connections may be delayed slightly by provisioning time. 
IP addresses are available in increments of 1 to dozens, depending on your requirements. A questionnaire may be required for larger IP blocks so that we can meet ARIN requirements.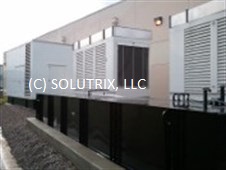 Hardened construction
Multiple diesel generators
FM-200 fire suppression
Closed circuit TV monitoring
Perimeter fence
Burstable Bandwidth