Mobile Software Development
BLACKBERRY APPLICATION DEVELOPER
-- MOBILE APPLICATION DEVELOPMENT
-- SMARTPHONE DEVELOPMENT
Through our partner mobile application development company at CellAvant, these Blackberry Applications have been designed and developed:

Blackberry Application Development - eDelaware™
Client : Potter Anderson & Corroon LLP, a leading Delaware law firm
Application Functionality: Because Delaware is a jurisdiction of choice for the incorporation and formation of business entities, attorneys and business people involved in corporate and general business law can benefit from instant access to key Delaware statutes and decisions. CellAvant developed eDelaware™ to provide instant access to key Delaware statutes and case law summaries for BlackBerry® smartphones - with or without a wireless connection. A wireless background synchronization of underlying data occurs when a connection is available. End users select their subscription settings upon registration and can change focus on the fly. Selected content is downloaded and updated without user intervention, and upon launching the application, is instantly available.
The server side of the solution is implemented as a collection of ASP.NET web pages and controls providing a range of functionality. For end-users, the server supports online sign-up, subscription settings and over-the-air download and installation of the application direct to the BlackBerry device. For the administrator, on-the-fly reports summarizing number of subscribers are available. Finally, the client application itself is supported with over-the-air download of XML formatted application data with content customized for each user's subscription, optimized to only send content that is not already present on a particular device.
Benefits :Provides instant access to key Delaware statutes and case law summaries for BlackBerry smartphones - with or without a wireless connection.
Find out more about our Blackberry Application Development

BlackBerry Application Development / Inspections/Field Service
Client : A UK-based wireless data solutions company
Application Functionality : CellAvant engineered and developed the award-winning "hand-e-pix" application for BlackBerry, a client/server mobile solution that provides field workers (e.g., field inspectors, law enforcement personnel, road maintenance crews) the ability to capture and process GPS location-based data, photos, time/date, and recorded comments at the exact moment taken. The application is user and password protected and provides GPS coordinates as well as the ability to record notes on those coordinates for services requiring proof of time, date and location.
This mobile application interacts with an ASP.NET server extension supporting authentication, upload of collected data, and download of XML formatted configuration settings, as well as interaction with an existing licensing system using web services. CellAvant has successfully integrated the new functionality into an existing infrastructure supporting Windows Mobile applications already in the field. CellAvant provides customization services to tailor this solution to the needs of each enterprise and to integrate this application with ERP/workflow management systems.
Benefits : This solution has enabled the largest utility contractor in the UK to document compliance with service level agreements, saving £1.8M/year in penalties. An additional unexpected benefit has been improved quality of work by the mobile construction workers, because the application is used to capture "before and after" images of each repair.
Windows Mobile Application Development /

Transportation/Field Service
Client : A prominent armored vehicle cash in transit company
Application Functionality: Our engineers designed and developed a reliable, highly secure mechanism for cash pickup and delivery of daily deposits. This application provides barcode scanning, signature capture and real-time tracking. The application runs on Windows Mobile devices and CellAvant provided consulting services to assist with the back-end database integration for this application.
Benefits: The solution saves time and reduces errors by eliminating paperwork, providing automated routing instructions, and verifying transactions.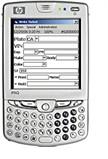 BlackBerry Application Development / Law Enforcement
Client : A premier parking citation processing company
Application Functionality: CellAvant enhanced and maintained an electronic ticketing application. This application has evolved into a vertical solution/service to a number of law enforcement organizations in the western U.S. The application provides for roaming data collection, instant ticket printing, photo and note collection, "hot list" lookup of data such as known stolen license plates, and tracking of shift hours and resources (such as agency cars) used, all while disconnected. The application includes account and permissions management, text and barcode printing, integration of pictures with ticket (or warning) information, and tire chalking functions. The solution runs on numerous Windows Mobile-based devices and integrates a variety of built-in and Bluetooth printers and barcode scanners. This "thick" mobile application provides full functionality operating in a disconnected state with access to data on the device using a mobile SQL database. When connected to the back-end server, SQL database synchronization is used to upload shift activities from the mobile device and refreshes local data such as account information, hot list details, etc.
Benefits : This ticketing solution replaced manual paper processing functions and the need to phone office-based personnel for vehicular information. It has improved the efficiency of agents "on the beat" resulting in enhanced revenue.
Interactive Media
Application Functionality: CellAvant developed a user authentication and validation application for "live TV" to provide true streaming video. The application is device agnostic, works on multiple mobile operating systems, and has been successfully distributed to over 20,000 mobile devices.
Benefits : The application provides for secure viewing of video on mobile devices.
Healthcare
Application Functionality: CellAvant was part of a team that designed and developed a PalmOS-based mobile application that collects and communicates oximetry and sleep apnea data to the supervising physician. Compliant with HIPAA and Medicare standards, the system allows patients to self-administer oximetry and sleep apnea testing and then delivers the results directly to the physician.
Benefits : The application has increased the effectiveness of providers, eliminating paperwork processing steps. In addition, the home medical equipment (HME) supplier does not have to return to the patient's home until the doctor has prescribed the oxygen, thereby reducing a full round trip to the patient's home required without this solution. One less trip equals large savings for HME suppliers, especially those who work in rural areas.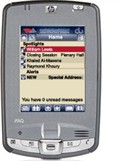 Marketing/Communications
Client : A global marketing and communications company
Application Functionality:CellAvant was part of a team that developed a mobile application to provide real-time conference information, scheduling, and interaction to participants. On-device data is routinely updated using wireless web service queries to a central conference server. All content is downloaded and dynamically updated. Data on the device is encrypted to guarantee confidential information. Users may browse conference content such as speaker bios, session descriptions and schedule information; register for sessions; send private messages to conference participants; and receive real-time alerts from conference organizers. Users may also download and view Windows media files and Adobe Acrobat files, including maps to conference facilities.
In addition to providing mobile application implementation for this solution, CellAvant acted as a consultant with the prime contractor and offshore subcontractor to design the server side web services and the XML data representation used between the client and server. Extensive testing and debugging was performed against the web services and associated Oracle database integration tools behind the server side application.
Benefits : This solution delivered a unique level of interactivity to hundreds of participants at an international event.
Accounting
Application Functionality: CellAvant designed and developed a PalmOS-based mobile accounting application that, as an add-on to a desktop financial package, tracks income and expenses against budgets and maintains up-to-date budget status.
Benefits: Mobile workers are more productive and effective by saving office visits, eliminating paperwork, and providing up-to-date budget information.
Medical
Client : One of the largest U.S. pharmaceutical distributors and leading healthcare IT companies
Application Functionality: Members of our team assisted with the design and development of a patient rounds application whereby providers update patient status information directly into their handheld applications while visiting with their patients either at home or in a medical facility. This information is then uploaded to the patient records backend database. The application runs on Palm and Windows Mobile systems.
Benefits: This application eliminates the need for paper medical records and provides secure online access to patient information.

Services
Responsive support and overall reliability are key.

Solutions
Custom built for each unique customer, and supported 24x7x365 by our experts.

Case Studies
Examples of solutions we successfully delivered to customers.