On-Demand IT Outsourcing
Sometimes a little expertise goes a long way - but can be expensive to keep around full-time. Or you need to increase your hosting footprint, but the hardware budget just isn't there.
We can provide that extra boost to your IT department. Whether you need help deploying a new firewall, designing a network for a client, setting up a hosting environment, deploying a new web application or whatever the case may be, give us a call. Our team is ready to go.
ON-DEMAND SERVICES - THE SHORTLIST
Solutrix has expertise in most major areas of IT. To give you an idea of how we can help boost your IT department's effectiveness, we've created a shortlist of the skills and competencies that most of our customers' have requested over the years. If you don't see a particular item on the list, don't fret - give us a call, we can't list them all here.
If we don't have the resources you need, we will refer you to a trusted partner that does.
On-Demand Admins - We can provided technical experts to perform system maintenance and assist with day-to-day IT operations in your organization. Forget about hiring consultants - we provide experienced Engineers who consider your IT problems their priority.
Emergency Services - Exchange Database Recovery, Application Recovery, or general help with those "OH NO!" moments that happen in IT.
Disaster Recovery - Many companies don't think about what they will do if all their IT infrastructure and data were destroyed in a fire or natural disaster. It's smart to have a disaster recovery plan - Solutrix will help you design, test and implement one. We can also provide hot-sites and other hosted DR services.
Subject Matter Experts - Need a SQL Server expert? Trying to deploy Microsoft Exchange Server? We can help by providing an expert who knows how to avoid associated pitfalls and risks.
24x7 Monitoring - A big part of the battle for maintaining uptime is monitoring. Solutrix can perform monitoring of your systems both internally and externally; or we can help you design and implement your own internal monitoring system.
Help Desk / Ticketing - We can make a dedicated private ticketing system available to your IT personnel or helpdesk, through which support can be delivered on-demand.
Cloud Hosting - Sometimes it's easier to deploy a new project to the Cloud, instead of expanding the server or datacenter footprint. We can provide scalable hosting services that meet your requirements and adjust to meet rising or falling load requirements.
Database and Application Development

Code Cleanup / Speed Optimization
Graphical User Interface (GUI) Design
Debugging
Porting from platform to platform
Quality Assurance (QA)
Web Farming / Load-Balancing
Data Conversion
Database Design

Certifications

Microsoft Certified IT Professional (MCITP)
Microsoft Certified Solutions Associate (MCSA)
Microsoft Certified Systems Engineer (MCSE)
Microsoft Certified Systems Administrator (MCSA)
Microsoft Certified Professional (MCP)
Cisco Certified Network Associate (CCNA)
Microsoft Certified Partner

Network Design and Architecture

Capacity Planning
Routing and Switching
Vendor evaluation and selection
Rack layout
Datacenter efficiency

Information Technology Management

Security Policy Design and Implementation
Regulatory Compliance
IT Methodologies
Change Management
Configuration Management Database (CMDB)
ROI Analysis and Optimization
Project Planning
Project Management
Risk Assessment
Requirements Analysis
Auditing
Contract Negotiation

Software as a Service (SaaS)

Hosted Microsoft Applications
Citrix/Terminal Server Farms

Business Process Outsourcing (BPO)

Relocation of IT Infrastructure & Assets

Technology Refresh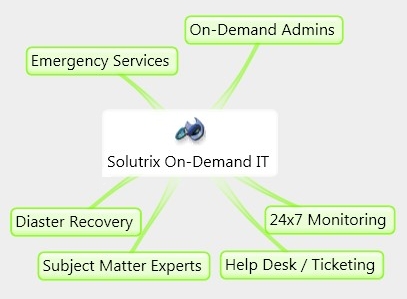 Services
Responsive support and overall reliability are key.

Solutions
Custom built for each unique customer, and supported 24x7x365 by our experts.

Case Studies
Examples of solutions we successfully delivered to customers.